CONTROL TOWER
Labscape was a finalist in the competition organized by ENAV, the company that manages civil air traffic in Italy, to develop a new control tower for several small and large Italian airports.
Our main objective was to start our design from a strong concept, and subsequently to give meaning to the object in its entirety. Our wish was to create a building with a strong and recognizable character, that could become a unique "landmark" for each Italian airport.The first step was to suggest an element as a "tribute" to Italy, in a discreet yet intelligent way. For the structural development study and shape of the building we started from a geometric system created by Leonardo Pisano called Fibonacci (Pisa, 1170-1240), one of the greatest Italian mathematicians, recognized all over the world. This system is known as "the Fibonacci sequence"
architecture

YEAR : 2015
LOCATION : Italy
SURFACE AREA : 2445 m²
PROGRAM : Lobby / Offices /Meeting rooms /Lounge / Kitchen /Technical spaces /Terrace / Restroom and bathroom / Relax room / VCR // Modularly Tower (20m to 60m) /Sustainable tower
Fibonacci's numbers are also found in nature, for example in the arrangement of leaves in many trees and flower petals, such as the sunflower, a flower that internationally describes the Italian landscape. So: the combination of repetitive geometry and typical Mediterranean nature were our starting points for the creation of this building.
ANOTHER FUNDAMENTAL ELEMENT IN THE DESIGN OF THE TOWER WAS TO IMAGINE A SIMPLE CONSTRUCTION SYSTEM WITH REDUCED ASSEMBLY TIMES. FOR THIS REASON, WE HAVE CHOSEN A PARTIALLY PREFABRICATED STRUCTURE BOTH FOR THE VOLUMES OF THE TECHNICAL BLOCK (STEEL-CONCRETE AND GLASS) AND FOR THE REINFORCED CONCRETE SHAFT THAT HOUSES STAIRS AND A LIFT. THE CONTROL CABIN WAS ALSO DESIGNED AS A SEPARATE ELEMENT, ALSO PREFABRICATED, IN STEEL.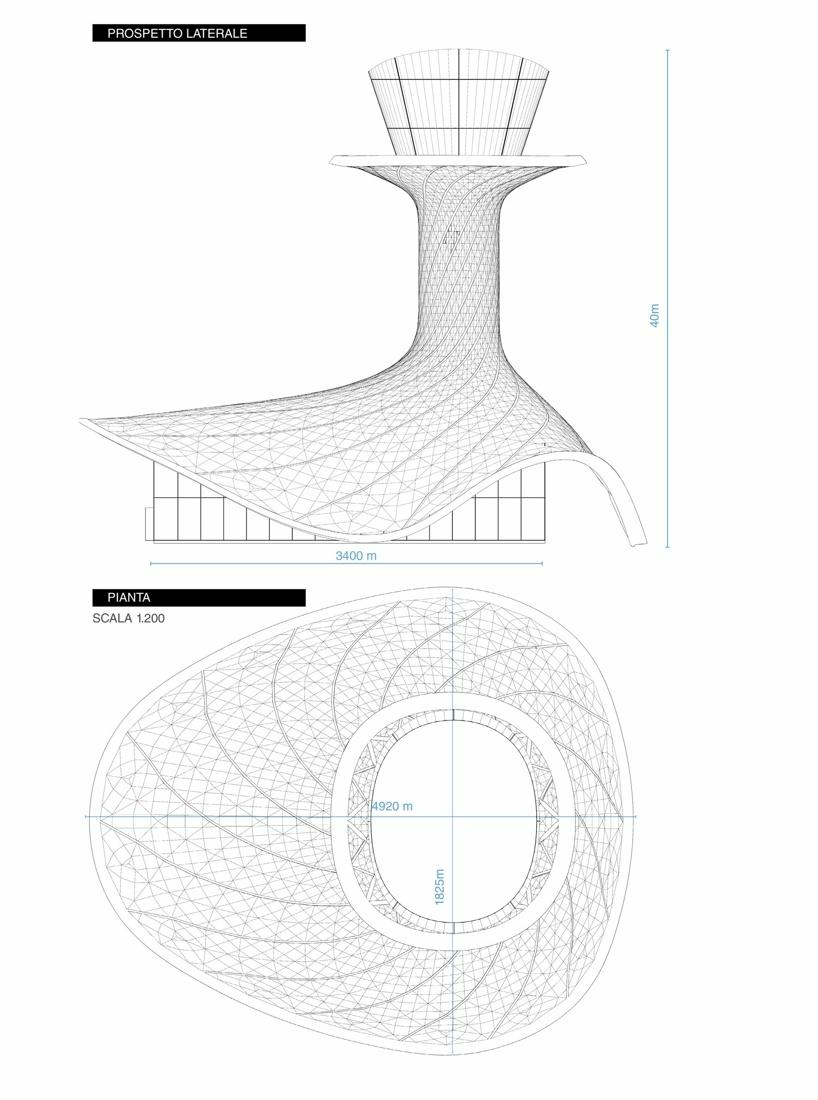 TO ALL THIS WE HAVE ADDED A SECOND SKIN OF METAL PANELS (ALUMINUM) THAT ALLOWED TO UNIFY THE ENTIRE BUILDING. STARTING FROM A GEOMETRIC DEVELOPMENT BASED PRECISELY ON THE FIBONACCI SEQUENCE, THE SECOND SKIN THICKENS AND THEN OPENS, LETTING LIGHT PASS WHERE NECESSARY (FOR EXAMPLE IN THE RELIEF ROOM). IN THIS WAY, THE FACADE BECOMES A DYNAMIC AND FLUID ENVELOPE.