NISOT
Villa Nisot was built by Louis Herman De Koninck (1896 - 1984) as one of the most beautiful examples of Belgian mid-century modernist architecture.
We restored the home and extended the back façade whilst preserving the architectural values of the volumes. During the restoration major stability & isolation problems surfaced which we tackled maintaining the original width of the walls and safeguarding the beauty and lightness of the proportions. The extension of the façade overlooking the intimate garden created more spacious and luminous volumes for the rooms and bathroom located on the first floor.
architecture
interior

TIMELINE: 2017-2020
LOCATION: Belgium
CATEGORY: Housing | Renovation
SIZE: 247m2
CLIENT: Private
PHOTOS: Nicolas Schimp
A POWERFUL EXAMPLE OF A MODERNIST FRONTAGE COMPOSITION.
THE CONTRAST BETWEEN THE WHITE WALLS AND THE DARK-FRAMED LARGE WINDOWS REFLECTS THE CLARITY AND SIMPLICITY OF MODERNIST ARCHITECTURE.
Before our intervention unfortunately nothing was left of the original interior, but it is known that De Koninck was a very talented creator of integrated furniture, glass work and tapestry. Study of his work revealed the need for an interior that links the past with a look towards the present and future. That is why we combined many references from his work into our choices of finishing and materials — e.g. mosaics, marble and wood to cover entire walls — with the personal preferences of the homeowner. Our savoir-faire in terms of material selection and integrated furniture creates an interior design that is both commemorative as well as quirky, contemporary and fresh.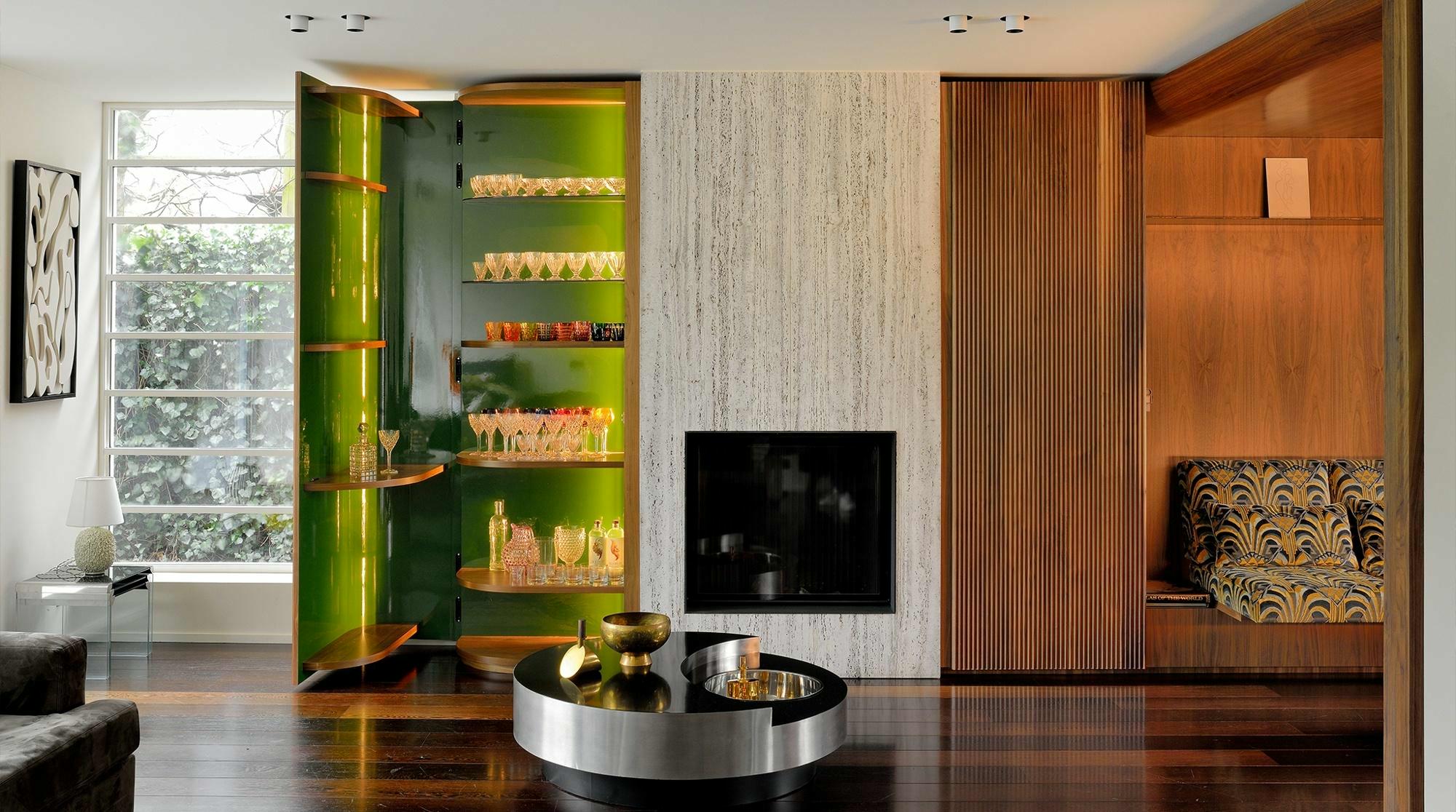 A PASSION FOR DIFFERENT MATERIALS DEFINES THE STYLE.
A KITCHEN WITH STUNNING OPEN BOOK MARBLE WALLS, FULLY INTEGRATED FURNITURE AND SEMI-TRANSPARENT GLASSWORK. WARM COLOURS AND UNIQUE MATERIALS WITH AN AIR OF PAST TIMES ARE ACTUALLY VERY CONTEMPORARY
A PLAY OF CONTRASTING NUANCES, WARM & COLD MATERIALS, LIGHT AND SHADE, PURE & COMPLEX SHAPES.
UNIQUE AND INTIMATE BEDROOMS.
WARM COLOURS AND UNIQUE MATERIALS WITH AN AIR OF PAST TIMES ARE ACTUALLY VERY CONTEMPORARY.
WE COVERED THIS TIMELESS MASTER BATHROOM ENTIRELY IN MARMARA MARBLE WITH LINEAR VEINS, GIVING THE SPACE A VERY DISTINCT AND EYE-CATCHING ASPECT.